26 Jul, 2022
Blog: Office is the new mixed-use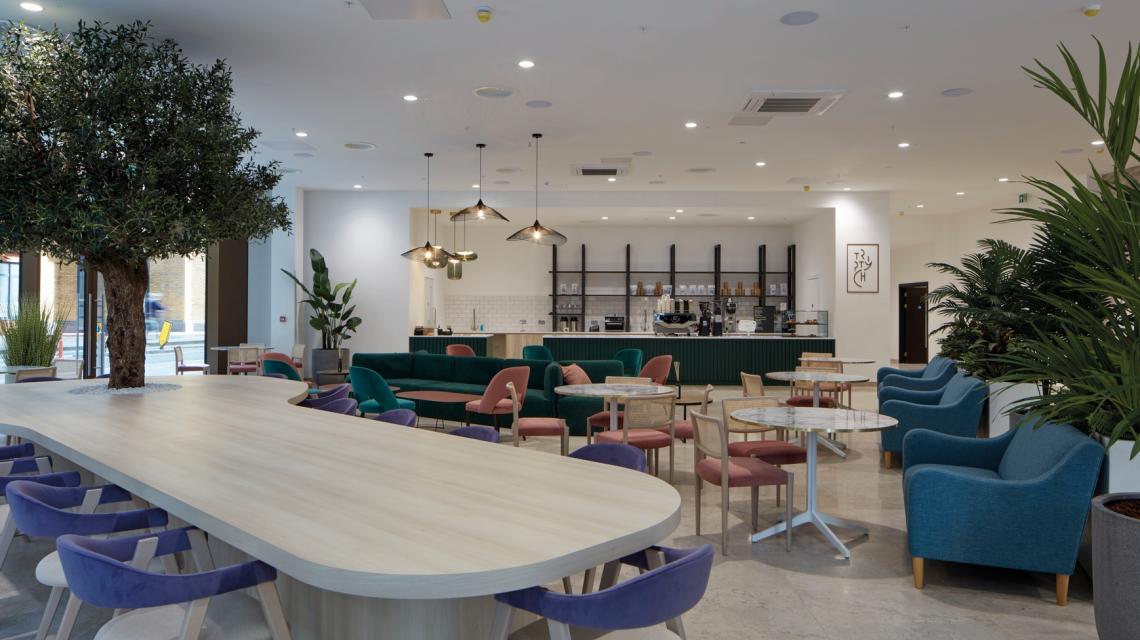 By Christian Stocker, Acquisitions Director
We are all aware of the changes happening in the real estate market at present, with big topics including:
1. Back to the office policy or not back to the office?
2. ESG credentials and how they can be incorporated into new and more importantly existing buildings
3. How to actually attract workers back to the office
4. Rapidly increasing materials and labour costs
5. The strange economic environment

Finding a way to navigate all this and provide advice to clients, investors and form our own opinions is not easy and I'm struggling to think of a time when there has been so many additional moving factors impacting a project's outcome and our decision in what to acquire as developers.
It's all too easy in these circumstances to avoid the question and simply stick to what we know or not to invest at all, so therefore no money is lost. Or is it? Not taking the opportunity can cost you also.
Usually where seismic changes occur in a market it means opportunities are available, although I wouldn't be very good at my job if it didn't mean that to me.
Gaps open up, demand can waver and prices can change, giving opportunity to see the openings and take advantage. But aligning the stars and finding the required investment, desire and team to deliver is tough and I'm glad, this holy trinity has graced me with its presence at JTRE.
We have all seen the flight to quality that happens when there is uncertainty but this time it's different. There is more to back up this remark, more substantive evidence to support it.
Offices and office space is changing, how we use the space is changing and "quality" doesn't just mean well-built buildings with decent architecture or developed by a well-known company. No, it's more than that.
"Quality" is all encompassing now, involving ESG credentials and genuine sustainable design, external terraces, attractive or striking architecture, good internal space for collaboration, high quality facilities bordering on a member's club feel and of course a decent location.
The office is now becoming mixed-use all by itself. A space we 'live', work and play in, whether it's three or five times a week. A place people want to go to, ultimately because it's 'cool' – which has a double meaning in this heatwave.

What is cool?
A stunning lobby with a hotel entrance or high-end residential block feel. A feeling of light and space but not cold. Welcoming and not overly stark or clinical in appearance.
The use of a gym or at least in a location with one close by, with special rates for tenants. Somewhere to have a drink after work maybe and places to have a coffee and chat with friends and colleagues.
It may be argued that this was always there in the best offices, perhaps but certainly not with the same intent. It was more of a trial gimmick rather than an inherent concept in the project's DNA.
The rise of super prime offices
The gap between prime rents and standard Grade A rents is widening and soon in my view a branch with a new trajectory will emerge and super prime rents will become more of a buzzword than the hushed muttering it is currently. JTRE aim to deliver super prime offices to the market - let me explain.
My theory is super prime will not be as straightforward to define as it is for residential. There are only a few postcodes that can attain super prime residential status. But I'm not so sure this will be the case for offices.
I'm not saying a poor location will enable a super prime building but the net is wider than residential and it's more about the environment and the day-to-day life of the building's users that will constitute a super prime office building, not the street or a certain park view.
Due to the rarity of new build opportunities, it's these office buildings that will be the first to achieve the quantum leap rents equivalent to One Hyde Park in residential. London has some of the world's most historical and beautiful buildings and the conversion and refurbishment of these to bring them to the standard required, is an inevitable outcome.
London also has some extremely unattractive buildings which now require a rethink to make useable in the modern market we have. We all know the type of concrete carbuncle generally let to the Government whose poor office workers, if over 5'8" (a perfectly adequate height in my opinion), end up with a bad back from stooping and a low level of vitamin D from the tiny porthole sized windows. Occupiers are comfortable however in the knowledge that they will be safe in a hurricane along with the 60% of market rent they currently pay.
The policies of Westminster that have been designed to protect offices have traditionally stopped developers from converting these carbuncles to residential as the financials simply didn't work but now the market has shifted, reforming these blocks to new offices is becoming borderline possible once again.
I say borderline because the rents are not yet low enough to force the land value down a touch more to enable the viability of full refurbishment. However rest assured when all the lease lengths start getting close to the bone the asset value will drop - and there are literally hundreds of these buildings coming like a wave of concrete and crittall windows.
The new era
Is the building beautiful? With strong ESG credentials and design, a low impact on the environment, amenities for live, work and play and easy access to the tube and mainline station?
Then there you have it, a super prime building. It could be Nine Elms or the City, Mayfair, Battersea, or Brixton.
'Build it and they will come' Kevin Costner was famously once told. He did and so shall we.