12 May, 2022
JTRE London secures over 25,000 sq ft of commercial space lettings for Triptych Bankside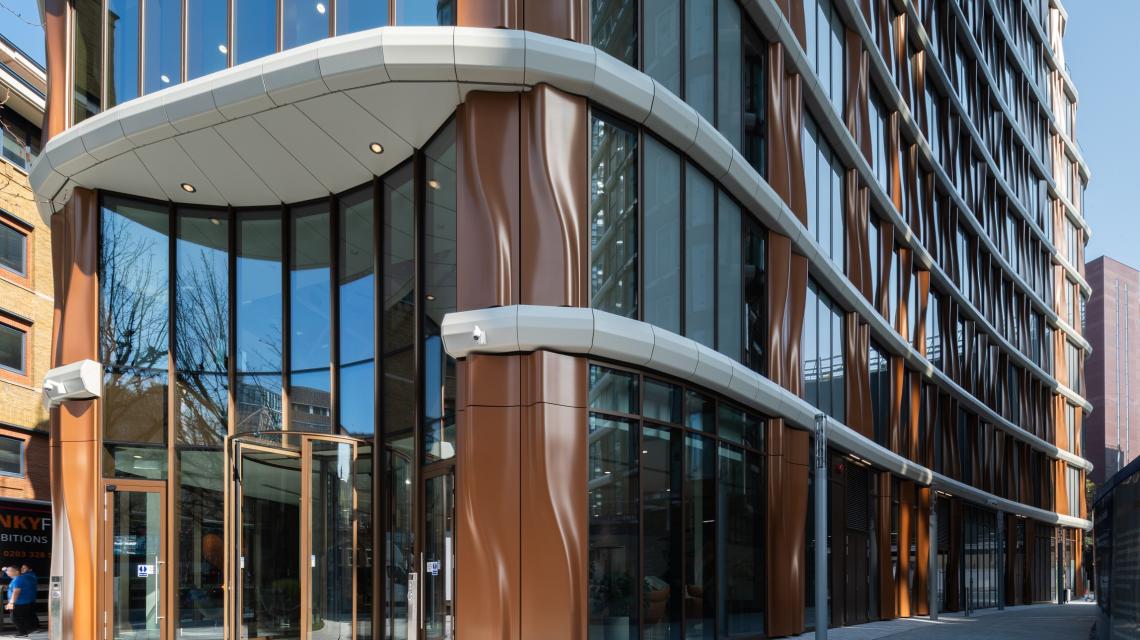 Highlighting the strong demand seen recently for space at the game changing Triptych Bankside development, one of the most striking schemes on the central London skyline, over 25,000 sq ft has been let by developer JTRE London in the commercial building at One Triptych Place. The deals are the first commercial signings at the Southbank development.
For both residents and external members, The Font is to open a 7,000 sq ft climbing gym with a 10-year agreement. Triptych Bankside will be its second location, adding to one in Wandsworth. Focused on 'climb, train, connect', The Font combines bouldering climbing walls, a fitness gym and an area to eat and relax.
In addition, independent coffee company, 92 Degrees, is opening its first location in southern England and has chosen Triptych Bankside as the best place to be. The Liverpool-founded business, which has signed a 10-year deal for 2,200 sq ft, currently operates nine coffee shops, including in Manchester, Leeds as well as Liverpool. The highly ethical company puts much emphasis on provenance and supporting sustainably-focused farmers, including coffee beans roasted in its own facilities to maintain the highest quality.
As a vote of confidence in its own building, JTRE will be occupying 4,000 sq ft of space on the fourth floor as its UK HQ, adding to its offices in Bratislava and Prague. Additionally, the top two floors plus the seventh floor have been let in separate 10-year deals to major corporate occupiers. Floors eight and nine cover 5,750 sq ft of space, whereas the seventh floor is 6,425 sq ft.
Nigel Fleming, Sales & Marketing Director of JTRE London, said: "With Triptych Bankside, we are creating an outstanding development that combines eye-catching architecture, stylish interior design and high quality finishes. The unprecedented demand for space we're seeing from international and growing companies for One Triptych Place is testament to the design, location and appeal of the building. Across the estate, we are maintaining the same quality of fixtures and design, whether in the luxury apartments, the commercial workspace or the spacious communal areas."
Designed by internationally acclaimed architects Squire & Partners, the 68,000 sq ft, prime grade A commercial building is part of a £400 million mixed-use development. The scheme is made up of three distinctive sweeping towers, with 169 luxury apartments in two blocks, office space in a third, plus 9,900 sq ft of retail. Its close proximity to the City of London, the West End and its location within one of London's most vibrant cultural districts makes it ideally situated.
The BREEAM 'Excellent' building is at the forefront of 'smart building' capabilities with a WiredScore Platinum certification achieved, one of the few buildings in Europe to reach that standard.
Nigel Fleming added: "The combination of international tenants, exceptional architecture and design and a spectrum of imaginative leisure offerings makes the Triptych Bankside estate one of the foremost schemes in London. This is reflected in the very high levels of interest from the UK and further afield."
Agents for the commercial space are Bh2 and Savills; retail leasing agents are Savills and BNP PRE; residential agents are Savills and Strutt & Parker. www.triptychbankside.com