07 Feb, 2023
Celebrating apprenticeships and supporting young talent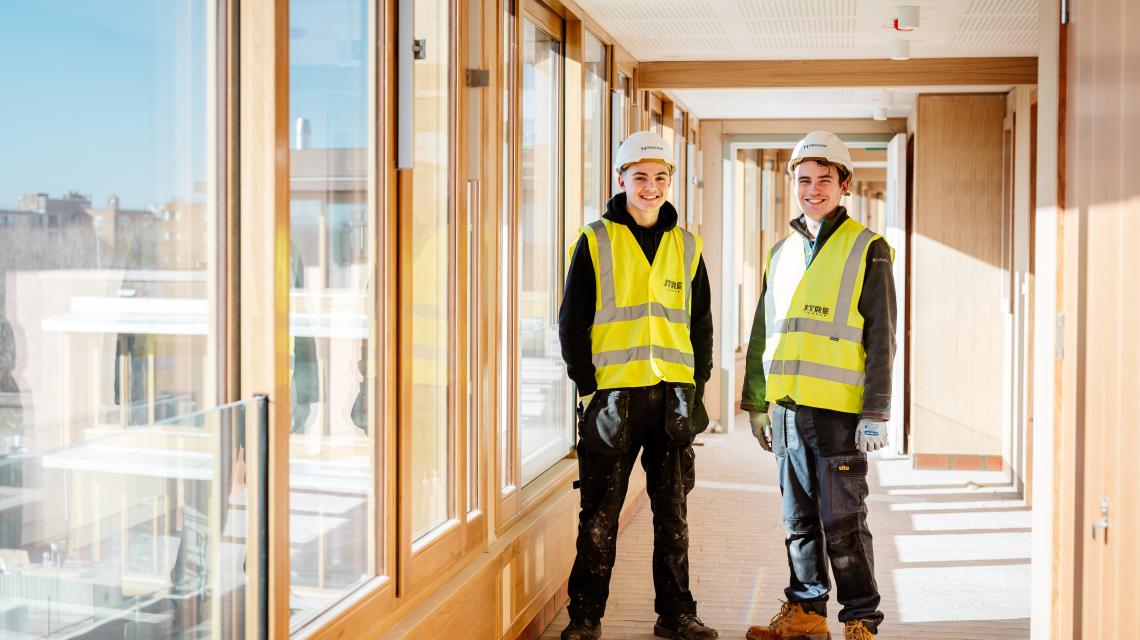 To celebrate National Apprenticeship Week this week (6-12 February), JTRE London caught up with two apprentices currently working on the Appleby Blue development at 116 Southwark Park Rd. When complete in a few months, this pioneering new almshouse will provide 57 affordable homes for elderly Southwark residents, operated by United St Saviour's Charity.
Shaun Fitzpatrick is a 24 year old apprentice employed by Horohoe Construction, a carpentry and joinery business working across London and the South East. Having spent close to two years as a carpentry apprentice at Horohoe, Shaun is nearing the end of his apprenticeship and is looking forward to becoming fully qualified. 
At Appleby Blue, Shaun and his team have been working on the timber frame and supporting columns that run behind the development's attractive brick and metal façade.
As a result of his apprenticeship, Shaun has been given the chance to develop new skills and explore different options for his career. "I used to work in an office but I didn't feel fulfilled, so I decided to go travelling in South America for three months. Then after Covid happened I started working as a labourer but it felt quite limited in terms of growth. I then took on this apprenticeship and I was given the opportunity to experience new things and learn a new set of skills that I wouldn't have been able to do otherwise. It has been exciting to work on a project as big as Appleby Blue." 
Another apprentice with Horohoe is Spencer White, who is looking forward to taking advantage of the unique opportunities for career progression that are afforded to apprentices. Having spent a year and a half as an apprentice carpenter, the 18 year old is working on Appleby Blue's columns and cladding, building on his previous work experience with a carpenter during his time at school.
The role has given him a fantastic opportunity to build his skillset without staying in full-time education - an ideal opportunity for many young people who want to pursue a 'hands on' career. "I really like the mentorship that you get when you're an apprentice" Spencer says. "You get to spend time at the company, learn its ins and outs, and work your way up". Spencer aims to progress to becoming a qualified carpenter once he completes his apprenticeship.  
Apprenticeships are an excellent option for young people to begin their careers in construction, allowing them to learn on the job and undertake a variety of different tasks before deciding on a specialism.
JTRE London takes pride in supporting apprentices through its network of subcontractors and suppliers. These programmes are vital to the future of the industry, ensuring that there is a continuous pool of emerging skilled talent to help meet construction and housing delivery needs.
If you, or someone you know wants more information on how to become apprentice visit NationalApprenticeshipWeek.co.uk.